Martin Kaplan, Museum co-founder, dies in Oregon
Martin Louis Kaplan, co-founder of the Museum of the Peace Corps Experience, died unexpectedly on June 20 at his home in Oregon City, Oregon.
Marty became an active and life-long supporter of the Peace Corps community after his experience as a Peace Corps Volunteer in the Federal Republic of Somalia where he served from 1962 to 1964. Following a 30-year career as a research chemist Marty and his wife, Frances, retired to Oregon City where he joined the Columbia River Peace Corps Association in Portland and came up with the idea of a Peace Corps museum.
Marty once told an interviewer, "I looked around the country and there was no special place where things were being stored or exhibited." He talked with other Portland area volunteers "and we decided we were going to start a committee that would be the beginning of a museum." A strategic plan, a case statement? he was asked. "What the hell is that? We got educated and that was great."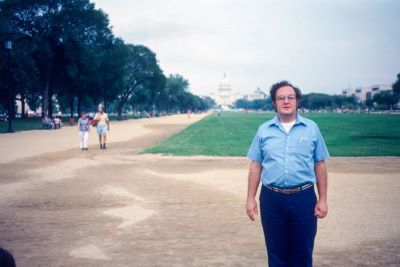 "Martin was laser-focused on providing an opportunity for RPCVs to tell their story through the items and treasures they brought home," says the museum's co-director, Nicola Dino. "His light-bulb moment and mantra was, 'There is no museum about the Peace Corps experience and we are going to start one.'"
He tenaciously fought for the museum with more than his inspiration and his ideas. Ron Myers (Malaysia 1972-1974) worked with Marty from the museum's first days in 2000 and recalls, "When funds were tight Martin would not only open up his pocketbook, but also open his house to store objects the Museum had collected." Martin's tenacity and unrelenting persuasion helped convince other returned volunteers to join him in making his dream a reality.
In 2008 Marty walked into offices of the Oregon Historical Society—without an appointment—and persuaded the society's director to partner with the Columbia River group in mounting a major display of Peace Corps artifacts to celebrate the 50th anniversary of Peace Corps in 2011. That was the forerunner of the national initiative to build the Museum of the Peace Corps Experience in Washington, D.C.
Marty was a native of New York City, grew up in Manhattan, and graduated from City College in 1956. He met Frances while in graduate school in 1964. Marty worked for the Bell Labs in New Jersey and received a law degree before moving to Oregon City, where he taught chemistry at Clackamas Community College.
Marty was preceded in death by his wife, Frances, who died in 2018, and a brother, Herald. He is survived by his son, Jason; daughter-in-law, Summer; granddaughter, Anika; and sister and fellow scientist, Ruth Kaplan.