To stream "Miss Lillian: More Than a President's Mother" visit misslillian.com
The Museum of the Peace Corps Experience hosted a new docudrama about Lillian Carter, one of Peace Corps' enduring volunteer legends and a staple of early public relations effort of the 1960s. 
"Miss Lillian: More Than a Pres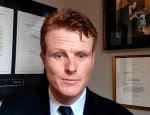 ident's Mother" burst onto the big screen in Justice Forum at The REACH in the Kennedy Center for the Performing Arts on Sunday, November 20. The audience of over 100 included friends of Atlanta's Carter Center along with Peace Corps staff, returned volunteers, and self-identified 'future' volunteers. Former Congressman Joseph Kennedy III, who served in the Dominican Republic from 2004 to 2006, introduced the film virtually via video.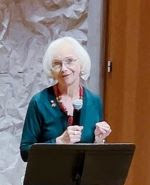 In her welcome, Museum President Patricia Wand, said, "The mission of the Museum of the Peace Corps Experience is to shine light on Peace Corps ideals. And this film does just that."
The film's script was written by educator, actor, and author Jim Dries who served in the Philippines in Peace Corps from 1963-1965, and his actress wife Carol Swarbrick. They originally wrote it as a one-woman play starring his wife, and first staged it in  2011 in Sequim, Washington, where they reside.
Swarbrick, a veteran of musicals with performing credits on Broadway, appears to channel Miss Lillian through a 59-minute film, peppered with salty humor and Southern grace about her life in Plains, Georgia. The narrative includes her engagement in civil rights and humanitarian causes, and her career as a nurse in Georgia and India. She celebrated her 70th birthday in Vikhroli near Mumbai (former Bombay) where she served as a Peace Corps volunteer, 1966 – 1968. She died in 1983.
For the documentary, the director, Vivian Winther, conducted film interviews with some of Miss Lillian's family members, longtime Plains, Georgia friends, former ABC news anchor Sam Donaldson, Dodger's baseball coach Tommy Lasorda, and President Jimmy and First Lady Rosalynn Carter. Her interviews with the former President and First Lady took place in Plains, Georgia in April 2019. The interviews with the couple, who are now 98
and 95, were some of the last conducted to date.
Following the screening, Rex Granum, Deputy Press Secretary to the Carter Administration, shared personal stories of Lillian Carter on a return visit to represent her son, then the President, at the 1977 funeral of India's president.  She and Deputy Press Secretary Granum also visited Vikhroli during that trip. 
A panel with Carol Swarbrick Dries, Jim Dries, Director Vivian Winther, and Producer Steven Ullman informed and entertained the audience with snippets of the 'back' story.
If you were not able to attend this screening, or if you wish to view it again, "Miss Lillian: More Than a President's Mother" is available on Amazon Prime, AppleTV, Vudu, ITunes, Google, and Microsoft. Visit misslillian.com