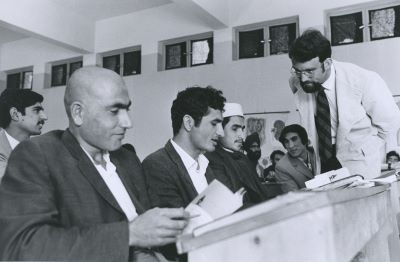 Serving New Afghan Refugees
By Tony Agnello Afghanistan 1972-74
President of Friends of Afghanistan
The ongoing effort of the members of Friends of Afghanistan to continue to serve our host country has for more than 40 years been driven by our experiences as Peace Corps Volunteers. Our most recent challenge is a response to the emergency evacuation of thousands of refugees during the Taliban's takeover of the nation.
As of late August, Afghanistan RPCVs are partnering with the PCC4Refugees.org to address the Afghan refugee crisis-epicenter at the Kabul airport. We are also preparing: to assist Afghan translators and interpreters holding Special Immigrant Visas or nonimmigrant P2 visas as they arrive in the United States or third-country destinations; and coordinate with refugee agencies and veterans' groups in 25 resettlement cities in the United States to make sure that America honors our agreements with the Afghans who served shoulder to shoulder in combat with their American counterparts and who hold Special Immigrant Visas.
We are committed to ensuring that the United States honors our commitment to international laws, especially those regarding at-risk minority groups and women who have been targeted by the Taliban pogroms, atrocities, and assassinations in the past. More updates will follow as the Afghan refugee crisis unfolds.
Approximately 2,000 PCVs served in Afghanistan from 1962 to April, 1979, when Peace Corps withdrew all volunteers following the assassination of U.S. Ambassador Adolph "Spike" Dubs. Nine months later, the Soviets invaded Afghanistan.
During those 17 years, we were assigned to live and work in Kabul— a South Asian city aspiring to be modern, and in the outlying Afghan provinces. RPCVs often describe our provincial sites as communities living in the 12th or 13th century. Luckily, we had the benefit of our Peace Corps Med Kits and antibiotics.
Afghanistan is frequently referred to as the Crossroads of Central Asia. The Afghan people represent the resulting diversity of ethnicities, languages, and religions that remained in the region following millennia of migrations, settlements, and invasions.
One of the outstanding characteristics of Afghan culture is hospitality. Peace Corps Volunteers were universally welcomed as respected members of the Afghan communities where they served. Outlying Afghan communities that were assigned American PCVs often had a special opportunity: small towns and provincial capitals secured educational and rural development assistance that was typically reserved for Kabul. Our colleagues, counterparts, and entire communities valued our technical expertise. The general consensus among Afghanistan RPCVs was that we gained in intercultural, linguistic, and professional growth, far more than we were able to provide for our communities.
In comparison to the enormous cost to the United States of its never-ending warfare, and the important but expensive foreign aid programs, the Peace Corps of the United States of America once again represents the most cost-efficient U.S. soft-diplomacy in American history.